Free worldwide shipping on orders over $15USD.
How To
6 Steps Application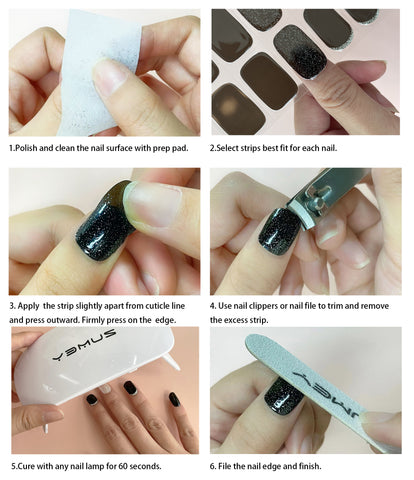 About Semi Cured Gel Nails
Zumey semi-cured gel nail stickers are made from real liquid gel, cured 60% in advance, and harden the remaining 40% with UV light by users after application. Our strips are soft, stretchy, and extra-long, fitting all nail sizes and shapes. 
1. Be sure your nails are completely clean and free from oil to make the strips stay longer.
2. Press harder on the edge with the wooden stick when applying. This will keep your hair from getting stuck.
3. If you can not find the right size for some of your nail, you can choose one size done and strech it to fit your nail.
1. Zero-feel: Wearing semi-cured gel nails, you won't have any pressure on your nails. You will not experience any discomfort during daily activities.
2. No damage: The adhesive layer at the bottom is moisturizing and breathable. Also, the removal process won't have any damage to your nails.
3. Long-lasting: Once they are applied properly, they can strongly stay for 2+ weeks. Don't worry about them falling off or cracking.
4. Save money and time: Semi-cured gel nail is a great alternative to expensive nail salons. Now you can change your nails more often with less money and time.